Mettec – gwintowanie i precyzyjna obróbka CNC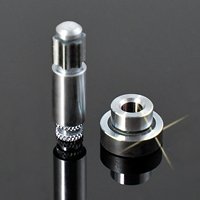 mettec
Firma Mettec specjalizuje się w produkcji precyzyjnych komponentów z aluminium i części dla przemysłu z wykorzystaniem technologii obróbki CNC. Mamy duże doświadczenie w obróbce metali skrawaniem, a w szczególności w precyzyjnym toczeniu z prętów na wielozadaniowych automatach tokarskich CNC. Produkujemy również elementy z odkuwek. Nasza przewaga związana jest z innowacyjnymi rozwiązaniami w dziedzinie seryjnej technologii precyzyjnej obróbki skrawaniem.
Gwintowanie, toczenie precyzyjne, obróbka metali i produkcja detali na automatach to coś, na czym znamy się jak nikt inny. Dokładamy wszelkich starań, by każdy klient, który zamówił u nas części metalowe, otrzymał dokładnie to, czego oczekiwał. Satysfakcja odbiorców jest dla nas najważniejsza.
W firmie Mettec podejmujemy się produkcji precyzyjnych części z metalu i aluminium lub mosiądz. Dodatkowo wykonujemy hartowanie oraz montaż komponentów, które tego wymagają.
Celem nadrzędnym firmy jest realizowanie potrzeb przemysłu z pozycji jakościowego dostawcy outsourcingowego.
Toczenie z metalu, frezowanie, gwintowanie, produkcja z odkuwek – Mettec to Twój Wiarygodny Partner w dziedzinie komponentów metalowych i produkcji kontraktowej.
Toczenie ze stali nierdzewnej – znamy się na tym, jak nikt inny
Automaty tokarskie stanowiąc odrębną rodzinę maszyn do obróbki toczeniem CNC wymagają specjalizacji i kompetencji w procesie obsługi i samej produkcji. Rozumiejąc w pełni ich specyfikę, przedstawiamy klientom możliwie najlepszą drogę do otrzymania oczekiwanych rezultatów.
Zapewniamy, że nasze usługi toczenia CNC są na najwyższym poziomie, a produkcję detali realizujemy w najwyższej klasie dokładności. Ponadto ciągłość dostaw na miejsce oczekiwane przez klienta i elastyczność to wartość dodana do potocznie nazywanego cennika, który jest zawsze dopasowywany do każdego projektu.
Skontaktuj się z nami
W celu uzyskania informacji o możliwościach podjęcia współpracy, zapraszamy do kontaktu z naszymi specjalistami. Z przyjemnością odpowiedzą na każde pytanie dotyczące naszej oferty oraz tego, czym się zajmujemy.
Analiza kluczowych wymagań stawianych komponentom toczonym na automatach tokarskich stanowi ważny etap w realizacji produkcji. Mimo iż, zdarzają się projekty nieskomplikowane, które analizy tej nie wymagają, jednak zdecydowana większość komponentów toczonych ma ściśle sprecyzowane i opisane wymagania. Analiza tych wymagań
Outsourcing to jedna z najbardziej efektywnych form współpracy pomiędzy partnerami, dlatego od początku naszej działalności oferujemy współpracę w ramach outsourcingu przemysłowego. Od lat jesteśmy partnerami średnich i dużych firm produkcyjnych. Nasze doświadczenie przekłada się na optymalizację kosztów u naszych
Precyzyjne toczenie CNC z prętów stanowi naszą podstawową działalność. Pozwoliło nam to zebrać na bogate doświadczenie w zakresie ogólnie pojętej problematyki obróbki metali na automatycznych obrabiarkach sterowanych cyfrowo. Zamówienia realizujemy dla różnych gałęzi przemysłu. Specjalizujemy się zwłaszcza w precyzyjnej obróbce.