Precision turning on automatic lathes swiss-type
Constantly expanding area of application on the fields of industrial production, in which the parts and components being turned with automatic lathe swiss-type machines are in great increasing importance. Among the high-precision turned parts on the automatic high precision turning swiss-type lathes' machines most commonly they are:
axles and axles with the shape profile,
high-precision rollers,
axles and components with the diagonal machinig,
shells into the mechanisms,
Market segments, which are the main recipients of high-precision turned parts lists:
production sector IT technology: HDD FDB Parts;
medical sector: implants;
the automotive industry;
electrotechnical and mechanical industry;
industrial fittings and fastening techniques;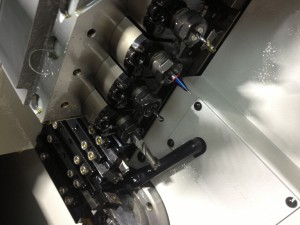 A number of reasons why multi-tasking automatic lathe machines achieves a unique advantage. Features that list this should be first and foremost: precision and high performance. These are the factors that underline the superiority of precise machining lathe machines with other paths. Highest quality with repeatability merge production makes the machining on CNC lathe machines is a specialized field among the widely available technology of machining.
In today's era of industrial production many components is made in a fully automatic process. In particular, this happens in the case of multi-axis CNC turning machines. Automatic production begins at the stage of digitalisation, CAD/CAM transfer, preparation and predefining tools, manufacturing itself, as ends on receiving complete articles and taking measurements.
Our company is in constant development in the process of automation of multitasking precision machining. New projects are that we are in continuous operations on improving our manufacturing methods.
For more information on the production of high-precision components please contact us by phone or fill in the form.