Precision CNC Turning
Precision CNC Turning is one of the more complex issues, due to today's requirements and brand standards. Many branches of industry today expect tight tolerances. Our qualified staff is aware of the above and knows how crucial attention to detail is in planning and implementation of the process. The precision in CNC lathes machining includes the following: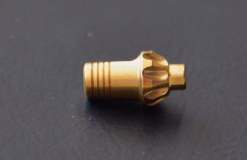 product key requirements analysis;
specialized software support based process planning;
tooling selection including "tailor made";
raw material requirements;
manufacturing process is continuity;
constant production checks and monitoring.
Our vast, longitudinal CNC turning lathes multitasking operations experience allows us to undertake tasks with high quality requirements regarding the hole production process and the product. As mentioned above, CNC precision turning is, in fact, multi-task process including the following: machining, grinding, milling and other operations.
To achieve maximum precision our engineers cooperate with major tool suppliers in designing and optimizing the profile and shape of tools. We provide our expertise in creating tooling to optimize the CNC machining process.
Materials used in precision turning have to meet high quality requirements as regards both dimensional precision of the raw material and its composition. For this reason we only buy from suppliers who can offer quality products. Our understanding of precision automatic lathe turning is that of a process, the feature of which is stability and repeatability.
For more information on the production of high-precision components please contact us by phone or fill in the form.
Constantly undertaken cooperation with major suppliers of tools, we design and create a profile and shape of the tools. then its optimization-a joint action taken by our engineering resources with suppliers in order to achieve maximum precision. We can offer its contribution in the development of instrumentation to a permanent effort to optimize the process of CNC machining.
Selection of materials used for precise lathe working must offer a fairly high requirements. They relate to both dimensional precision of the raw material as well as his inhalt. Place the appropriate materials requirements, the lack of which can destroy the ability to achieve the expected precision rolling. In particular, it should be noted that the processing of precision turning lathes we understand as production details, which must be the inherent stability and repeatability of the measured characteristics of the product.
In order to obtain accurate information on the production of high-precision machine components for digital machine tools, please contact us by phone or fill out the form