Cutting a Groove
Precision turning on CNC machines is associated with a number of processes occurring parallely or in the immediate aftermath. The effectiveness of the turning is spread on multiple planes affected by manufacturers of machinery, tools and process engineering and operators – the company's production asset.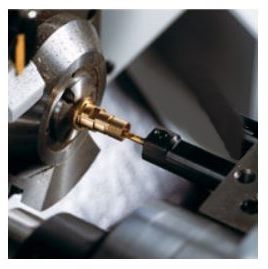 One of the important processes from the point of view of the customer in terms of precision and efficiency in the case of turning on CNC lathe machines is cutting groove of butt off-axis and in the axis of the material. The operation of this overlap, as is the case with most machining treatments, machining tools and parameterization. Selection of tools in terms of shape geometry is especially important in this case because of the requirements to maintain precision dimensional while having to pick up chips the same as by deep drilling. However, an additional problem, is the force of off-axis which may enter the vibrations into the material then move on in the tool. In this case, continuity, depending on the material can be upset, which will then result in the final, excessive heating to the edge of the blade. Remains of the chips may also be found in the already notched Groove. Shorten life of the tools will only be the consequence.
Application of the optimization methods in the parameterization of this process is crucial and testifies to the expertise and experience of the staff in the production of precision turned components for machine tools. This topic now entered within the scope of the treatment of multitasking.